FIFA Club World Cup 2017: 5 records that could be broken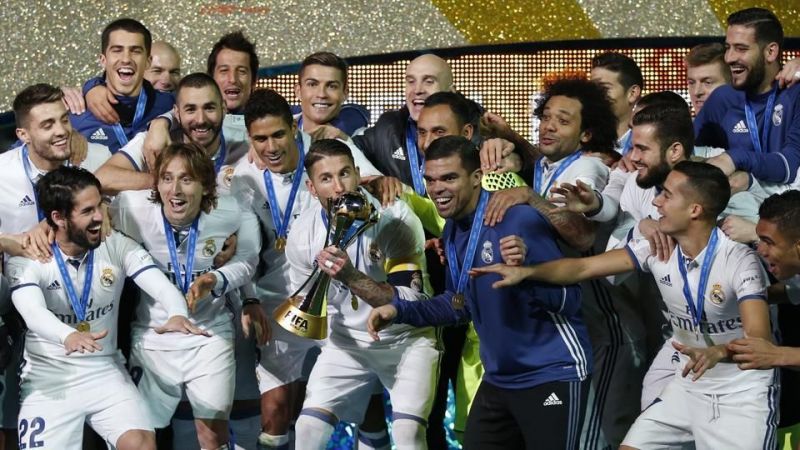 Defending Champion Real Madrid already made history by becoming the first side to qualify for the annual tournament for two successive years, here are some more records that are there for the taking.
#1 Real Madrid can become the first side to retain the trophy
Los Blancos, having won two back-to-back Champions League titles, now have a chance to rewrite history by going all the way in Abu Dhabi and become the first team to retain their illustrious world championship.
The likes of Barcelona, Bayern Munich, Manchester United, AC Milan all boast multiple Club World Cup titles, but nobody could win it twice in a row. And that's perhaps because they couldn't win the Champions League consecutively. Simple as that.
#2 Ronaldo can become the all-time top scorer
With five goals in the competition's history, he currently leads the all-time scoring charts jointly with Barcelona counterparts Lionel Messi and Luis Suarez. But with two games now in hand, Ronaldo can make the record his own.
Al-Jazira and Gremio (considering Real Madrid get through to the finals as expected) aren't so intimidating opponents, and might as well end up conceding a goal or two to Ronaldo
#3 Real Madrid to join Barcelona as the most successful teams
Currently, Barcelona are the most successful side in the competition's history with three titles. Corinthians and Real Madrid have two apiece, but the latter has a chance to go one better and join their eternal rivals with a third in UAE.
The Galacticos claimed their first piece of the silverware in only 2014, also their first appearance in the competition, as they beat San Lorenzo of Argentina in the finals. The second one soon followed as Cristiano Ronaldo's brilliant treble helped the Madrid outfit overturn a shock 2-1 deficit to win 4-2 over Japan's resilient Kashima Antlers last year.
#4 Ronaldo and Kroos to become most successful players with four trophies
From a player's point of view, Cristiano Ronaldo and Toni Kroos are currently among the seven players - Dani Alves, Sergio Busquets, Lionel Messi, Gerard Pique and Andres Iniesta among the rest - to have won the Club World Cup on three different occasions.
In the current tournament, the Real Madrid stars can steal a march, together.
Kroos first put his hands on the trophy in Bayern Munich colours in 2013, before winning it in 2014 and 2016 with Los Blancos. Ronaldo too, as you know, was a part of both the winning Real Madrid sides, but tasted success for the first time back in 2008 with Manchester United.
#5 Ronaldo to join Iniesta for highest number of finals started
With four appearances in the Club World Cup finals, Barcelona's Andres Iniesta currently holds the record for most number of appearances in the finals. He was a part of the losing side in 2006, before winning it in 2009, 2011 and 2015.The midfield maestro was a part of the starting XI on all four occasions, and also played an instrumental role in some of them.
Ronaldo stands at three, having started in each of the finals he's played - first in 2008, then in 2014, before the historic night in 2016. But this year, should he propel his side to another final, will most likely start thereby taking his appearance record in the competition's finals to four, drawing level with Iniesta.