5 players who should leave Manchester United to progress in their careers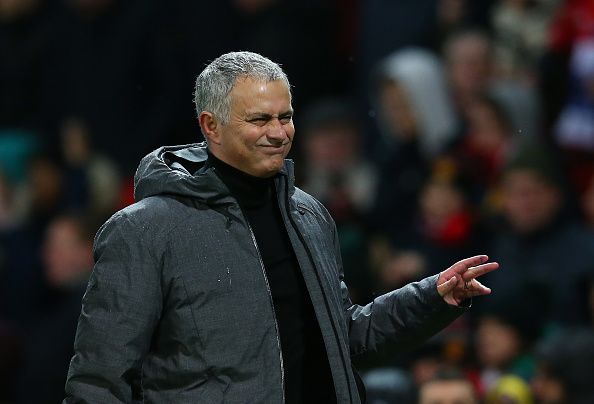 Manchester United have divided opinions over the past couple of years. Since Jose Mourinho took over the reigns of the team, the playing XI has undergone many changes and the results, too, have been promising.
The Portuguese manager won the UEFA Europa League in his first-year in-charge and devised a clever way to qualify his team to the UEFA Champions League just at the time when he realized that a top-four finish was out of reach.
His team has been the only competitors that Manchester City has had this season. The red half of Manchester has kept City on their toes throughout, and one must expect the cross-town rivals to run a close battle until the end of the season.
As Mourinho took over the team, he changed the transfer plans too. The former Inter Milan boss has the influence to attract the best players from all over the world to his team. Zlatan Ibrahimovic signed as a free agent as Paul Pogba was brought back for a world record fee.
Romelu Lukaku was brought on board just before this season and almost all the new recruits have gone on to become important members of the starting XI. Mourinho has given his players enough time and matches to adjust themselves to the rigours of the Premier League.
He has shielded his players from any kind of negative influence by the media and has demanded utmost professionalism. He has not feared to sideline players if they show lack of commitment and his man-management has been excellent until now.
However, as every good team does, this team has some unused wheels too. Players who deserve to start every single week and still do not make it into the manager's plan. Mourinho has every reason to rotate his squad players, but these players have the talent and ability to make it to the first team of any other team:
#5 Matteo Darmian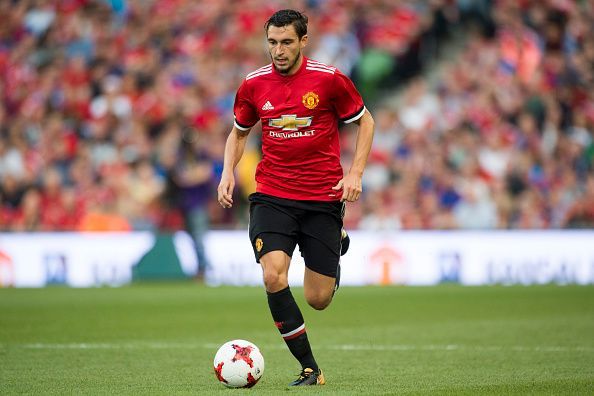 Matteo Darmian arrived at Manchester United much to the fanfare and excitement of people and critics alike. Darmian backed his initial hype with some good performances early in his first season.
One of his performances even led to Gary Neville saying that Darmian is actually better than the former Manchester United legend. That is some compliment!
However, a couple of injuries and months later, Darmian cut out an inconsistent figure in the field. Ever since Mourinho took charge of the club, he has preferred Antonio Valencia to start as the right-back in the team, over the Italian.
The Ecuadorian has responded well to the manager's decision, too, and this means that Darmian has been reduced to a squad player at best.
He has been given some rare chances on the field, and so far, has managed to play only 384 minutes of competitive football for Manchester United.
Despite his inconsistent form, Darmian does have the talent to help him get out of difficult situations. He has incredible pace and stamina to run up and down on the flanks. A strong build allows him to win the physical battle on the flanks and this certainly gives the team an advantage over the opposition.
His crossing has been a bit wayward, but that can be improved with regular practice and game-time. In the presence of a fit Valencia, it looks increasingly difficult for Darmian to break into the team. United reportedly rejected an offer from Inter Milan and kept Darmian with them, but time might be running out soon for him.
#4 Axel Tuanzebe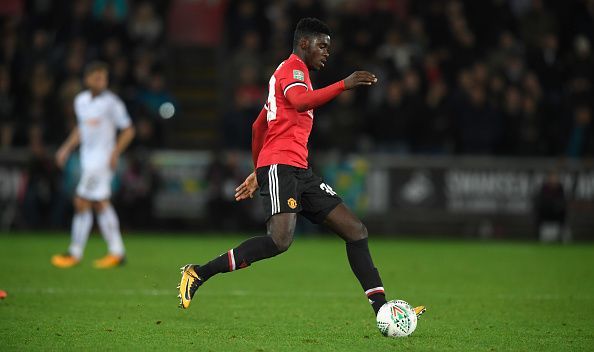 Manchester United's youth academy has been a breeding ground for talented young footballers over the years.
The youth department at Old Trafford has been applauded over the years for churning out youngsters who have the ability to take the world by storm. From David Beckham to Marcus Rashford, the club's academy has been spot on at tapping young talents.
One of the latest stars emerging out of the academy is a young defender named Axel Tuanzebe. The young lad has been regularly involved with first-team activities and features in matchday squads too.
However, he is yet to start or play in a Premier League or a UEFA Champions League encounter yet. Tuanzebe can play as a central defender and can switch to the fullback position too.
He has been a star for the reserve teams as his peers rate him very highly. Tuanzebe possesses good pace and has a great sense of positional awareness. He can be an imposing figure in the box and is always willing to hound upon the forwards to deny them clear opportunities on goal.
On top of all these things, Tuanzebe is just 20-years-old. At this age, Marcus Rashford and Anthony Martial have already become regulars for the first team. Manchester United have around five centre-halves vying for the starting spot, so regular playing time looks a distant dream for Tuanzebe.
The youngster has risen through the ranks from United's academy, so it looks unlikely that he will leave the club completely. However, a loan move will do him more good than harm. He will be guaranteed ninety minutes of football each weekend and this will give the manager a good glimpse of his talents on the field.
#3 Sergio Romero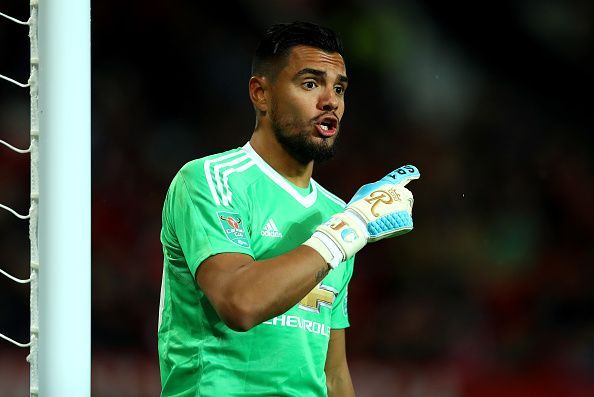 South American stars have hardly had great times at Manchester United and we have seen them struggling to cement their spot in the team. Romero's purchase was more of a panic buy than anything else.
As in the summer of 2014/15, David de Gea was closer to an exit from the club, Louis Van Gaal brought Romero to occupy the number one spot for Manchester United.
Sergio Romero has been a regular starter for the Argentine national team. He has impressed everyone with his consistent performances at world stage as he has been able to handle a feeble Argentine defence really well. However, when things come to Manchester United, things are a bit different.
Romero has never been able to become a regular starter for the club due to the presence of the exuberantly amazing David de Gea. Though the Argentine is a good goalkeeper, the Spaniard's presence means that Romero's playing time has been very limited.
Last season was mainly the breakthrough season for United, as Romero was appointed as the Europa League keeper for United as de Gea was kept on the bench. Romero was amazing in the title-winning trophy for United as he delivered steady performances all through the competition.
Even in the final, he looked unfazed by Ajax's young squad, as the goalkeeper led his box with the high command.
At 30 years of age, Romero has matured well as a goalkeeper and his best years lie ahead. He has shown a constant urge to improve, which is quite evident by his displays. There were doubts over his ball distribution early on, but those apprehensions seem to have disappeared now.
#2 Luke Shaw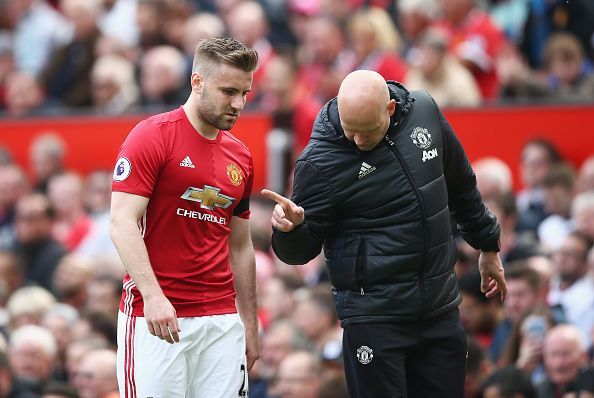 There are different angles to how one can look at Luke Shaw's career at Manchester United. Signed as a young prodigy from Southampton, lots was expected from Shaw.
He had the ability and potential to make heads turn, and he was being groomed to take over the left-back position at Manchester United.
Fast forward a couple of years and things are completely different. Jose Mourinho has reinvented Ashley Young as the first choice left back and Young has been delivering match-winning performances.
Even when Young is rested, Mourinho prefers a more disciplined and stable Daley Blind over Luke Shaw.
Such situations can clearly take a toll and hit on any youngster's confidence. Shaw has immense talent and ability to become the first choice left back for Manchester United, but has quite simply failed to do so, so far.
His searing pace, winger's instinct to cut in and create opportunities and the passing range, as well as his crossing abilities are special. His fitness is what has tampered his growth as a footballer and a professional too.
Managers have doubted his professionalism and commitment towards improving fitness. No footballer has excelled without a good attitude and we have seen many talents going wasted just because of the lack of desire and passion to succeed.
Shaw needs some time away from the limelight to rejuvenate his form. He needs to find the form that made him famous in the first place and that can only be done away from Old Trafford.
#1 Jesse Lingard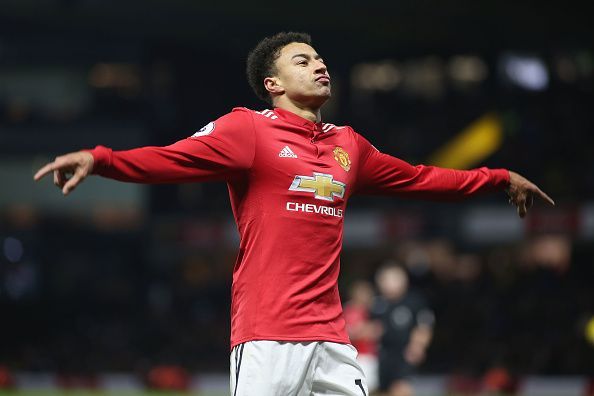 It is always difficult to suggest that a homegrown talent should move away from the team. Alvaro Morata's tears while returning to Madrid from Juventus flash in front of my eyes and it is really difficult to opine that Lingard should move away from United.
Jesse Lingard is the chocolate-faced boy waiting in the wings to take over the mantles for United. He has grown up at Old Trafford, learning the tricks of the trade at United's academy. He has spent quite a few loan spells away and ever since his return has become a first team member for United.
However, for the talent that Lingard possesses, he is under-utilized. The young Englishman can play in any attacking position. He has the speed, the awareness to pick out great positions and the passing ability to pick the right man in the box.
However, most of the times he is used as a substitute when the result is already more or less finalized. Lingard can run between lines and has a great finishing touch. However, he is less flashy and not as famous as his other teammates. Maybe this goes against his favour, as we never see his name being advocated to start in an important clash.
Lingard has a knack for scoring important goals and turning up for the big matches. He has scored in two cup finals, against Chelsea in the league and in the Community Shield too. All of them have been spectacular solo efforts, which have left the fans awestruck.
The 24-year old needs a team that allows him to do all of this more regularly and that his how he can bring consistency in his game. His work ethic is amazing as he can run all day long, searching for the ball, closing down spaces when needed, and initiating attacks according to the situation.
Let us see what the future beholds for the baby-faced young man.